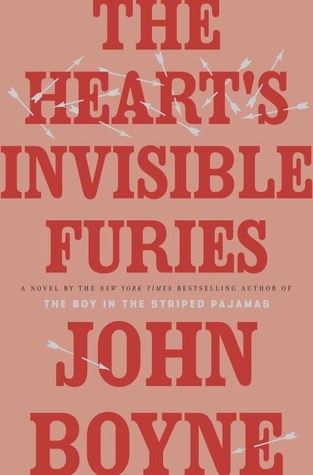 As this engrossing novel opens, we watch as sixteen year old Catherine Goggin is denounced in church by her priest and, literally, kicked out of the chapel. We are in Ireland in the 1940s, and Catherine is pregnant and unmarried. Her family disowns her, and she uses  her small savings to move to Dublin. She is befriended by a young man, Sean MacIntyre, who suffers mightily for being homosexual. In a country that was – at least in it's own eyes – pious and superior, it was not safe to live outside the the church and its dictates. As a single mother in this country, at this time, there was no realistic way for her to provide a good life for her newborn son, Cyril, and she releases him for adoption. Cyril is adopted by a married couple, the Averys, who, to the very end of their lives, remind their adopted son that he is not "a real Avery."
The story is Cyril's story, and I won't try to tell it. It's well written, engaging – sometimes humorous, often heartbreaking, and covers a span of approximately seventy-five years. The author, John Boyne, deftly weaves the cultural and political events of the era into Cyril's experience without laying too heavy a historical hand on the plot but, for Cyril, the central theme of his life is being homosexual in a time a place where that is simply not acceptable.
In his search for his place in the world, Cyril's life takes him from Ireland to Amsterdam to New York and, at the heart of it, into the cultural events that surrounded the AIDS epidemic. In 2015, Ireland became the first country to legalize same-sex marriage, leaving Cyril to wonder,
I've spent so much time pushing the boat out that I forgot to jump on and now it's out beyond the harbor on the high seas, but it's very nice to look at. And that's how I feel. Standing on the shore, looking out at the boat. Why couldn't Ireland have been like this when I was a boy?
But if Cyril had to struggle for acceptance – from himself and society – by the end of the story we have gained not only a greater understanding and appreciation of the time and place, but the opportunity to see our protagonist – who surely represents so many who suffered as he did – come to a place of peace and acceptance.
Grade: B