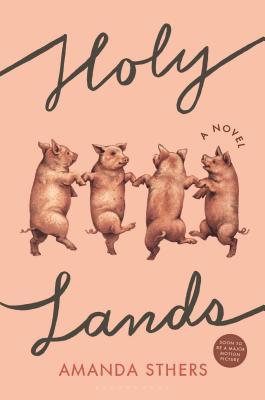 It has been quite a while since anything I've read has made me laugh, cry, search online for background information, and wish that the author had made the book about three times longer than it is. Of course, the brevity of the story is probably part of its charm – it's one of those rare books that grabs you immediately and won't let you go until you reach the end. If it was longer, I would probably have had to put it down more often and, possibly, escaped the lasso that kept me firmly on the couch with my Kindle in my hand. It takes less than two hours to read.
Holy Lands is an epistolary novel, a series of letters written between the members of a family who live apart, both geographically and emotionally. We are there as voyeurs who share their stubborn attachment to old wounds as well as their willingness to try to find their way back to each other.
Author Amanda Sthers has worked a special kind of magic that allows us to be both frustrated by their intransigence and touched by their unwillingness to give up on each other. If you have ever been part of a family (and, of course, you have), you will recognize these people and the complex relationships that tie them together.
That's all you need to know. Read it.
Grade: A+