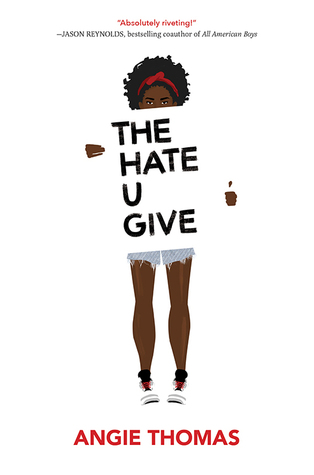 "People like us in situations like this become hashtags, but they rarely get justice. I think we all wait for that one time though, that one time when it ends right."
Starr Carter is a sixteen-year old black girl who lives her life split between two worlds – Garden Heights and Williamson High School. Garden Heights is the low income area where she lives. Here she thinks of herself as "Garden Heights Starr." She tells us, "My nana likes to say that spring brings love. Spring in Garden Heights doesn't always bring love, but it promises babies in the winter."
Willliamson High School is the prep school she attends. At Williamson, she is "Williamson Starr," and one of only a handful of black students. Of her high school experience, Starr tells us, ". . . at Williamson I don't have to 'play it cool' – I'm cool by default because I'm one of the only black kids there. . . Funny how it works with white kids though. It's dope to be black until it's hard to be black."
She adapts herself to each environment, keeping her personae, as well as her friends and family, separate. Her mother is a nurse, her father, an ex-convict, owns a grocery store in Garden Heights. Her Uncle Carlos lives in a gated community. Her boyfriend, Chris, is white, as are many of her friends from school. It's easy to understand the fine balance she works to maintain in her highly disparate worlds.
The story opens with Starr and her friend, Khalil, fleeing a party in Garden Heights when shooting breaks out. They believe that the shots come from a "King Lord," the local gang who is at war with the "Garden Disciples," another neighborhood gang. As they drive away, Khalil is stopped by a policeman, ostensibly because one of Khalil's taillights is broken. In a scene that is terrifying and, probably, all too common, Kahlil is killed. His death soon becomes a national headline, and Starr is the only witness.
The remainder of the plot centers around Starr's role in – and the impact on her life of – this event.
The voice, Starr's first person POV, is colloquial, direct, and honest. The characters are ones we worry about and cheer for. The story is topical and important.
This novel has, rightfully, received many literary awards including Coretta Scott King Honor Book, William C. Morris Award, and being longlisted for the National Book Award. There are important lessons here, not only about race and justice, but about finding your voice and making it heard.
My hope is that it will become high school required reading.
****UPDATE: On July 7, 2018, the South Carolina Police Union has demanded that The Hate U Give be removed from high school reading lists, claiming that the book is "almost an indoctrination of distrust of police."
Grade: A