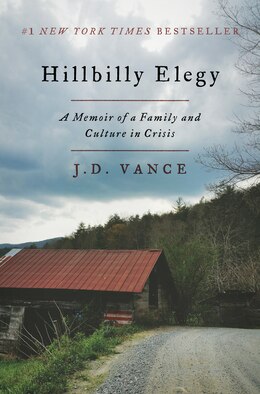 I wouldn't normally have followed a book like Evicted with another non-fiction work on similar issues, but this is our book club book this month so there really wasn't much choice. The demographic is different – Evicted dealt primarily with inner city blacks, Hillbilly Elegy with, well, hillbillies. In this case, hillbillies who moved from Appalachia to southwestern Ohio, the Rust Belt, in the mid-20th century.
Before I delve too deeply into the book itself, let's agree to the particular population we're talking about:
Wikipedia (2017): People who dwell in rural, mountainous areas in the U.S., primarily in Appalachia and the Ozarks. The move North to locations such as Chicago, Cleveland, Akron, and Detroit became known as the "Hillbilly Highway."

New York Journal (1900): A free and untrammeled white citizen of Alabama, who lives in the hills, has no means to speak of, dresses as he can, talks as he pleases, drinks whiskey when he get it, and fires off his revolver as the fancy takes him.
I include both definitions because, to read J.D. Vance's version, not much has changed between the two definitions, other than the "hillbillies" moved.
Hillbilly Elegy has been a best seller, currently touted as a way to explain the extreme populism of Trump supporters and his presidency. Besides the requirement to read it for my book club, I was interested because I mistakenly believed that it was a sociological study. It is, in fact, a personal memoir, written by a man who had a difficult childhood. Yes, his family practiced any number of the bad habits that are stereotypical of low income, disenfranchised populations – brawling, anti-social behavior, drug addiction, alcoholism, to name a few – but, in fact, their move to Ohio brought with it union membership, employment security, middle class incomes, home ownership, and many of the other perks that job stability affords. However, they remained tied to the Appalachians through frequent trips back "home," where their deepest ties remained.
As we follow Vance and his family into Ohio, Vance appears to  benefit from his grandparents' – especially his grandmother's –  solid place in his life, but the family remains distressed and unstable. His grandparents live apart and continue to fight, often violently. They carry guns with them everywhere they go, and aren't afraid to use them if "necessary". Vance's mother blows through relationships and marriages, ignores and/or abuses Vance and his sister, Lindsay, and is, herself, a lifetime drug addict. I lost count of the number of "fathers" Vance and Lindsay have, but the instability and violence have taken their toll. It is a long walk uphill to find the lives they hope to live.
Vance, himself, eventually finds his way out of this destructive cycle, but has paid a steep price.
The dis-functionality and depression experienced by Vance's family seems almost identical to the problems associated with the inhabitants of the mobile home park in Evicted!, without the accompanying poverty. Somehow this is never clearly addressed: how is it that financial security; good and secure employment, including opportunities for advancement; adequate education; and freedom from hunger and poverty hasn't helped this population to  succeed?
One review I read refers to the "hopelessness" of this "hillbilly" society. The flaw in this book is that it never offers a satisfactory explanation as to why this population, who relocates and, in doing so, reaches a realistic possibility of improvement, fails to achieve it.
Grade: C